Tweet
Okay, so Roy was in full-on, DEFCON 4 face-breaking mode right from the start. The result was a complete game, two hit, 97 pitch shutout that the Phils won in a laugher to bring the home-away-from-home team their fourth straight NL East division title. Roy basically had a look on his face like he was going to kill everyone in the stadium, all night long. Which was good for us, but bad for everyone in the stadium. Fortunately, once he realized the stands consisted of nothing but Phillies fans (seriously, so awesome), he decided not to. But now we know what to expect from Postseason Roy. Ha, good luck with that other playoff teams.
But on to the post-game celebration, both offline and on.
First up, we have amazing pictures of Roy bathing in champagne with his teammates: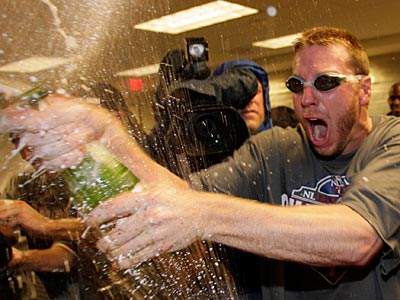 ABOVE PICS ARE FROM AP AND PROBABLY PHILLY.COM
Next, and true to form, Roy broke Donkey Nation's face off immediately in a postgame interview when he uttered the following now famous* phrase,
"It was fun, but it's only gonna get funner."
Video of this historical moment is below, provided by our pals at
the Fightins:
I have no idea what this actually means, but it was pretty hilarious.
Other items trending at the time: Roy, Halladay, Funner, waitwhat, Phillies, Sweeney
And finally on this glorious post-clinch morning, we have some serious postseason swag to let you know about:
From
Meech & Birdland + The Fightins:
PENNANT TEES
And last but not least, some
ZWR Special Editions: