Tweet
So it's with deep sadness
(not really)
that I officially call to end the week of Cole Hamels Fist Pump Photoshops. It was a lot of fun, and it had the side benefit of making it really easy for me by not requiring me to actually generate any new content this week. So thanks! But seriously, thanks to everyone who submitted photoshops this week-- I think I posted just about all of them (with only a few exceptions), so my sincere apologies if I happened to miss yours. I think this was a big hit and I hope everyone enjoyed it. If you want to re-live the whole thing again,
click here
.
And here now to put a neat little bow on top of all of it is the following awesome submission from Dave G.
(he of guy-who-sent-Jim-Tracy-a-now-banned-by-MLBPA-ZWR-t-shirt-that-got-mentioned-on-air-by-Fox fame).
This rules.
Click for full, eleventy jillabyte-sized view
...
...
Oh. You're still here. Well then. Fine!
Since you're here, you might as well check out this:
Oh and this too...
Okay, okay. Why not. The faster version too!
Alright, seriously. This is it. I promise. No more. After this: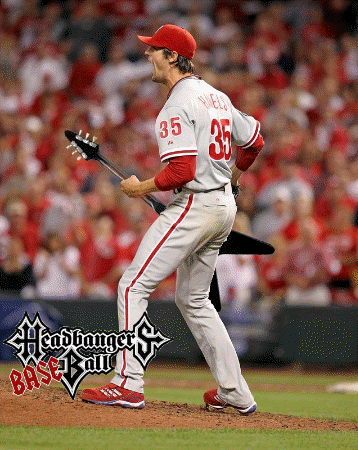 Thanks everyone.

See you all tomorrow for the resumption of

[REDACTED]

TOBER.

This round is going to be so much more

[REDACTED]

NNER!!