Tweet
By ZWR and
Crane Kicker
Hey y'all thanks and stuff for coming with me and all to look at these prospects
NO PROBLEM CHARLIE I LOVE ROAD TRIPS BESIDES IT'S NEVER TOO EARLY TO GET A START ON THE FUTURE THESE GUYS COULD BE THE BUILDING BLOCKS OF THE FUTURE I LOVE LEGOS AND LINCOLN LOGS TOO THEY'RE FUNNY BECAUSE THEY'RE NOT REAL LOGS BUT BABY LOGS AND THEY OWN THE EAGLES STADIUM ALOHA JEREMY MACLIN HE'S FAST DID YOU KNOW THE NHL PRO BOWL IS IN HAWAII I'M FROM HAWAII MAHALO
Hey skip, isn't it a little late for winter ball? We break camp in a few weeks...
Oh stop it already with that stuff this is serious business here ain't got no time for campfires and snickersmores and ghost stories
Dammit not that kind like Casper don't matter none because my point was …
Hoopie Goburng es my favorint.
Shocker... lemme guess...your favorite rapper is Da Brat?
Hey howchu kno dat? Yimmy chu stonp goeeng chroo my diary or I am telleeng Coach Monwell.
Y'all cut the crap now Martini you stop whinin and like Jimmy you stop readin his diorama. We gotta get goin!
Hey Martinez you know what your name kinda sounds like? It kinda sounds like "My Pe..."
CHU SHADDAP RIE NOW PAINT BORRELL.
Hahaha relax bro. Where we headed anyway? They call me Ponce de Slay-on and I've never even explored these parts of the Dominican or Florida.
We've been in a car for four hours. How could we possibly … ?
Just woke up, bro. Just. Woke. Up.
No man we're going to to see these kids for the draft combo vertical leaps and shuttle drills.
LOL, NEEDED. Your farm system is uglier than a New Haven co-ed before brunch.
Keep yappin, Spreadsheet.
I don't even know what to say. Like the Phillies offseason, this trip has been a total abomination thus far. I'm surprised you didn't pay Papelbon $76 million dollars to drive you in a Winnebago.
THEYYYY SEEE MEEEEE ROLLLLLLLLLINNNNNN...
KEEEEEITH HAAAAAAAAAAAAATTTTTTTTTTTTTTIIIIIIIIIIIIIIIINNNNNNNNNN
Chu har a gud seenger Yonnatin. Do chu kno any song by Lauren Heell?
Bro - do you ONLY like entertainers who have dreadlocks???
No Yimmy... I lie Lenny Kravit...he's my favorint weet de guitarra. He no haif a dreadlonk.
Why God? Why do I even bother trying anymore with these guys...?
Hey Martinez who's your favorite football player? Mine is Tim Tebow.
Dais a tough wun... prolly say eeder Asantee Somwell orrrr maybeee Larry Feentzgerol.
Aight it's the last time I'm saying this no more everyone we gotta get our minds right and start thinkin about these prospects - this is important. Ain't no talkin bout football we gotta get our minds right for Indiana-apolis.
Oh good God he's taking us to the NFL scouting combine.
Our other bus is behind us and stuff we'll be there soon everyone focus.
99 bottles of beer on the wall! … are there any mermaids on that wall per chance? … what about nachos to go with the beer?… not HOPpening, Joe - hahahaha … EVERYONE be serious I'm the captain of this bus and our fifth starter derp
This place looks boring as nuts.... there better be a Hooters convention or something in that big top bubble otherwise the PB Max is jettin down to Bloomington for some "Hoosier Daddy" action.
You're legitimately disgusting.
Alright like let's get down to business here like I'm tryin to find some hidden gems like what I like to call like a "Snoozer" pick.
I like the way you think, Charlie. Sleepers... All about mid-round talent.
Big Red! I'm on a 6'2" 215 pounder from Villanova kid looks like a steal and can play the SAM, MIKE, and rush end. Oh and can I have a dollar to get some Rolos?
SHHHH! Not so loud Howie. We need to lay low on this guy. I heard the Giants were in on him. Probably will need to trade up to get him like we did with Brandon Graham.
Hey now like what about that kid runnin over there he looks like a big bag of jello all jiggly the way he's runnin and stuff haha yeah man I like his make-up. What round do you think he should go? I need like a power hitting guy off the bench.
You already have a big fat guy that can't run. Through 2017, in fact. You're welcome.
Hmmm... let me crunch some numbers... gigantic... comes from a D-1 championship program... I dunno about this guy. Doesn't fit our mold. I say he goes undrafted. Maybe we can stash him on the practice squad for a few years until he shrinks up.
Pipe down Rosenberg I'm not asking you to help me pick players besides if I was I'd talk to Andy he's my buddy what with the coaching paternity and all with us and Lavioletti and Tom Collins.
I'm really high on that kid over there. Any kid who shows up to the combine in full pads... you know he just loves to play the game. Targeting him early. Check him out, Charlie. You can build a team around a guy like that.
Wait what like I don't need no kickers
Pretty sure I can punt a ball so high it hits the ceiling.
You know you're going to injure yourself, don't you?
Prone to injuries? High motor? That's my kind of guy. What do you want for Utley, Ruben?
Come on Ruben it's the combine! I've got the itch.... let's make a move.
I'll trade you Blanton for the promise that you never speak to me again. I think he fits your undersized D-Tackle mold perfectly. Look at that guy.
What we've got here is a kid with excellent footwork and agility for a big man. You watch the film and you see ELITE athleticism for someone that size. He was a bit of an unknown coming into this, but I'm thinking Blanton now easily projects as a first round talent.
I'll give you Asante- throw in a 7th in 2015 and we've got a deal.
ASANTEE YAYS! I tink chu shuld draif de keed Yenkins dayt use to be on de Gators. He es baller. Lukeateem.
CHARACTER ISSUES RED FLAG HE SMOKED MARY JANE NO WAY NEXT.
Chu better NOT trayde Asantee den or I cheer for Titans and Chrees Yohnson.
Asante?! He doesn't even hit.
Well neither did we in the playoffs ha ha ha ha
I like it! We're making like quality additions and stuff Armante has speed and instincts I'm thinking he's perfect for left field.
YEAH CHARLIE WHAT ABOUT DOM HE'S GOT FIFTEEN TOOLS AND LIKE AN EIGHTEEN PACK OF ABS TOTAL COMBINE FREAK I THINK HE'S READY FOR PRIME TIME!
Shut it if I wanted tools I'd go to Lowe's Depot I know they ain't got them in Panama but that's where they sell tools I'm looking for ballplayers Shane and you're lucky I don't bench you
Did someone say "Prime Time"?
OHMYGOD IT'S NEON DEION YES YES YES DUDE YOU RULE I LOVED YOU WHEN YOU WERE ON FLORIDA STATE AND WORE A HEADBAND AROUND YOUR NECK IN GAMES I TRIED TO DO THAT ONCE AND CHARLIE YELLED AT ME AND SAID I LOOKED LIKE A TURTLE HEY REMEMBER WHEN YOU USED TO DO 2 LEGIT 2 QUIT WITH MC HAMMER THAT WAS THE BEST AND DOUG GLANVILLE LEFT TICKETS IN THE WINDOW FOR ELVIS EVERY GAME AND ANDRE RISON WHAT A COOL TEAM REMEMBER HIS HOUSE BURNED DOWN THAT TIME RIP LISA LEFT EYE LOPES
Dammit Victorino you trying to annoy me? Go sit in the car!
Hi Deion. If I may just say, you have pretty sweet dance moves. I used to practice them in the mirror growing up. Helped me out a lot.
You got moves kid? Let's see 'em!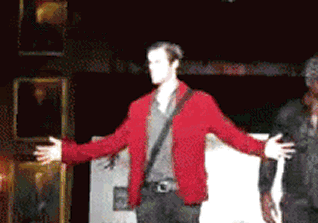 Like I dunno what's even goin on anymore I came here to do scout projects and these two are havin a dance contest.
I'm so glad you made me come to this. Best thing I've ever seen in my life.
Look at that guy over there. Nobody is paying him much attention. Think we should take a shot, Howie?
Ew no way he looks like a shoe salesman. Not to mention that guy's like older than me. PASS. I've got my late round QB eyed up anyways there's a kid down at Tarleton State named
Nick Stephens
...threw for 387 against Angelo State in November.
You think he can run the West Coast?
Now I know everything there is to know about college football and I can confidently say that I have never heard of either of those schools and there is a good chance they are made up names.
Ya gotta dig, Mayock! These are primo steals in the late rounds! Gold standard all-in type maneuvers.
BOOOOOOOO, YOU STINK. ALL OF YOU.
Looking at your board right now Mayock.... I'm liking that Ricky Sapp kid. I don't think Hernandez or Pitta can play in this league. Oversized.
Hey Andy what the hay I just went to look at them vertical leaps and stuff like you said they would but it wasn't even started yet.
I take full responsibility for that. I've gotta put you in a better position to succeed, Charlie.
You still looking QB depth, Andy? I'm available.
Depth, yes. Width, no. Now's not the time Donovan. And for the love of god please take off that uniform you look ridiculous. Criminy.
So this is really it, huh?
It was really it when I shipped you off to Washington now scram!
I'm gonna be sick I think.....
Heeerrre we go... everyone watch your shoes.
Alright you idiots, we gotta bounce. Utley just broke his wrist trying to bench three-eighty because that drill sargent called him a meathead and with the money I saved by trading Jell-O we were able to sign another arm for next season.
Oh. My. God..... You are all fired.