Tweet
by
Mike Meech
We interrupt your regularly scheduled nonsense...
Official over-sized intro graphic of the Dom Brown Hose Report
PHILADELPHIA, PA (MM) -- Domonic Brown, the oft-criticized outfielder for the Philadelphia Phillies, was detained at the roundhouse in Center City last night after unleashing what police believed to be "a cannon or some powerful cannon-like device" in right field at Citizens Bank Park, nearly killing backup catcher Brian Schneider, and leaving tens of thousands of fans screaming in horror.
According to reports, Dom pretended to lose a popup in the lights off the bat of Bruce, allowing him to reach third base with one out in the top of the fourth inning. Then, in what witnesses called the most blatant violation of Pennsylvania firearms laws they have ever seen, Mr. Brown caught a pop fly off the bat of Todd Frazier, drew his weapon, and fired a baseball towards home plate that left a tagging Jay Bruce out by an estimated fifteen feet.
"At first, when he dropped the popup, I was hysterically laughing," said Bruce, recalling a similar gaffe he made in Game 2 of the 2010 NLDS that cost the Reds the game. "Then, I realized afterward he was just setting me up for further embarrassment. It was completely unfair, baseballs don't travel that fast or accurately when released from the arm of another human being. I demand an investigation into the matter."
But Jay Bruce wasn't the only skeptic. "That was some Mega Man Mega Blaster [stuff]," Reds shortstop Zack Cozart told reporters after the game, referring to the popular video game character who uses an arm cannon to fire at enemies. Another eye witness, Kyle L., a self-proclaimed expert from the Main Line was also dubious of the play, "I wasn't really watching the game because I had invoices to take care of, but afterward I looked on Twitter and saw everyone talking about Dom Brown's hose and since he's a big disappointment and probably lazy, it doesn't surprise me that he'd go to these lengths to cheat and gain an advantage over the scrappy, play-the-right-way guys like Hunter Pence."
ZWR has obtained footage of the incident, which the league will surely look into after checking Dom's testosterone levels. For now, though, Domonic will be allowed to stay with the team and play in games until an investigation has been concluded. He was released from jail this morning on his own recognizance.
[Official Investigation footage, exhibit A]: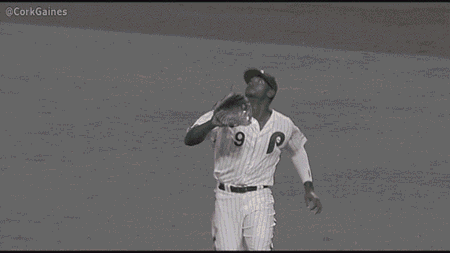 Jay Bruce: CANNON HOSED
But wait, there's a bonus photoshop!!!!