Tweet
Good morning, donkey face. Did you hear the good news? The NHL is alive! Remember that? Here's a bunch of gifs packaged for your convenience as a refresher: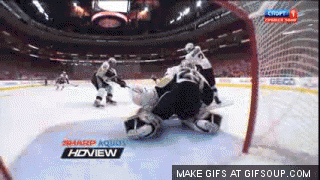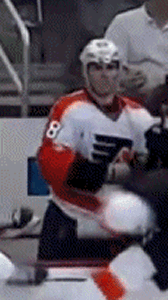 AND
I don't want to hear any snarky gibberish from you it's a great game even if Gary Bettman is the worst person on earth and I'm happy it's back so deal with it.
FURTHER
, in celebration of this whole situation I'm presenting for you all a listing of my top three most favorite Kevin Dineen-approved ZWR hockey shirts (available for purchase in the
ZWR T-Shirt Shop
!) what what woot.
The NHL 94
Dude NHL 94 was one of the the greatest Genesis games ever (I mean srsly- one timers?) and now you can combine that with the Flyers and your favorite bolg about wanting to go to the zoo with Phillies ace (and former part-time resident of Canada) Roy Halladay. Seems like a no-brainer to me.
So Dangled
It's our Wachovia Center equivalent of
So Cuttered
. Also, ladies and gentlemen of the jury: MS PAINT CLAUDE GIROUX.
SO HUMONGOUS BIG
Alright, I admit it-
Bryz
is a total
space cadet
. But he's hilarious, and his performance on "24/7" remains fascinating and this shirt has a tiger on it.
BONUS: Here's a picture of Brian Propp doing his "GUFFAW" just because: