Tweet
Last night during the broadcast, McCarthy and Matthews were chewing the fat on a variety of mundane topics, trying to create something that passes for witty banter, as they normally do. But things
got
interesting when T-Mac
prompted
ol' Sarge with a question
about
pile of poop Ryan Braun and his
recent
suspension for the rest of the season for being a arrogant pile
poop
cheater.
Well as luck would have it, 2013
ZWR Bolg Ring of Honor inductee Ryan Petzar
took the liberty of transcribing Sarge's response with his pirated copy of 2004 Word Perfect for Windows Millennium Edition, and as you can see it's...well, just read it...
The italics button was made for this moment in history.
And there
you
have it. You have to think Bud Selig is probably printing out the transcript above and storing it in Ryan Braun's permanent file.
"
AND HEY SARGE
SPEAKING OF CHEWING THE FAT
, SARGE WHAT ABOUT THIS JIF IMAGE ON THE WEB DID YOU SEE IT UH HAHAHAHAHAHAHAHA"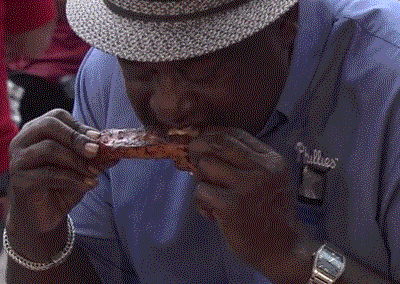 Thanks to Sean for emailing this to my attention, though I feel it's pretty old
The Phillies lost to the Cardinals.