Tweet
Quarterback
ZWR: RIP Nick Foles look on the bright side you're still young and rich and should be back for the stretch run if Mark Sanchez doesn't own the city by then hear me out there's an outside chance it is going to happen you can never doubt someone who eats chicken tenders on the sideline during a key intra-division prime time rivalry game. Grade: Chicken Tenders
Hardingererer: Foles won't start for the Eagles again this season. Inexcusable decision by Sanchez to cut his dope headband flow. Grade: D (due to lack of flow)
DG: Do you realize how close we were to one of the greatest, most insane Philadelphia media weeks in recent history? If that pass doesn't bound off of Josh Huff's fingers and into a Texans defender's hands, and Sanchez takes the team the rest of the way down the field for another touchdown, mere moments after Foles got pick-sixed on another underthrown off-balance lollipop made of equal parts bravado and naive hope, we would have had a full six days ahead of us of bozo callers calling bozo radio show hosts to have heartfelt, soul-searching conversations about the possibility of replacing the quarterback of a division-leading team with a man most famous for his involvement in a notorious play called "The Buttfumble." It would have been magical. I'll never forgive Josh Huff for taking this away from me. Grade: B
(I wrote this before they announced the extent of Foles's injury. Please pretend I said something smart.)
(Getty Images)
The Evster: I listened to WIP this morning for the first time in over a decade because I love love love quarterback controversies. I lasted 15 seconds before I fired my phone against a wall. Grade: A forever
Doc Pizza: MARKKKK $ANCHEZZZZXX BABY I am ready to believe. I am ready for this. Please take me away lord. I believe in Mark Sanchez as the future of this team for the next two months. Grade: $ANCHEZZZZXX
Running Back
ZWR: Guys our running backs rule. Shady had over 100 yards rushing, Darren Sproles is the greatest human being on Earth by far, and Chris Polk gets a first down or touchdown every time he touches the ball. Grade: A++++++++ Forever
Hardingererer: Darren Sproles is so small and quick and Shady is so elusive and Polk is a straight up battering ram this is what I imagine rooting for that Staley-Westbrook-Buckhalter backfield was like (I was 9) only with a coach who actually likes running the ball. Grade: A+ Forever
DG: I love all these guys with all of my shriveled black heart so I really hate to nitpick, but I feel like maybe it shouldn't have taken until November to figure out that giving the ball to the large angry man who runs in a straight line toward the end zone every time he touches it might be a better short-yardage strategy than lining up in the shotgun and flipping the ball to a ballet dancer. Again, I say that with all the love I am capable of giving. Grade: A+
The Evster: Here are the most exciting running backs in the history of football, non debatable: 1. Barry Sanders (obvs) 2. Earl Campbell (based on that one play where like 19 guys ripped his jersey off on the way to the end zone) 3. LeSean McCoy (obvs again) 4. Darren Sproles (triple obvs although maybe he should be #2) and 5. Neal Anderson (based solely on his enormous mouthpiece). Grade: A forevs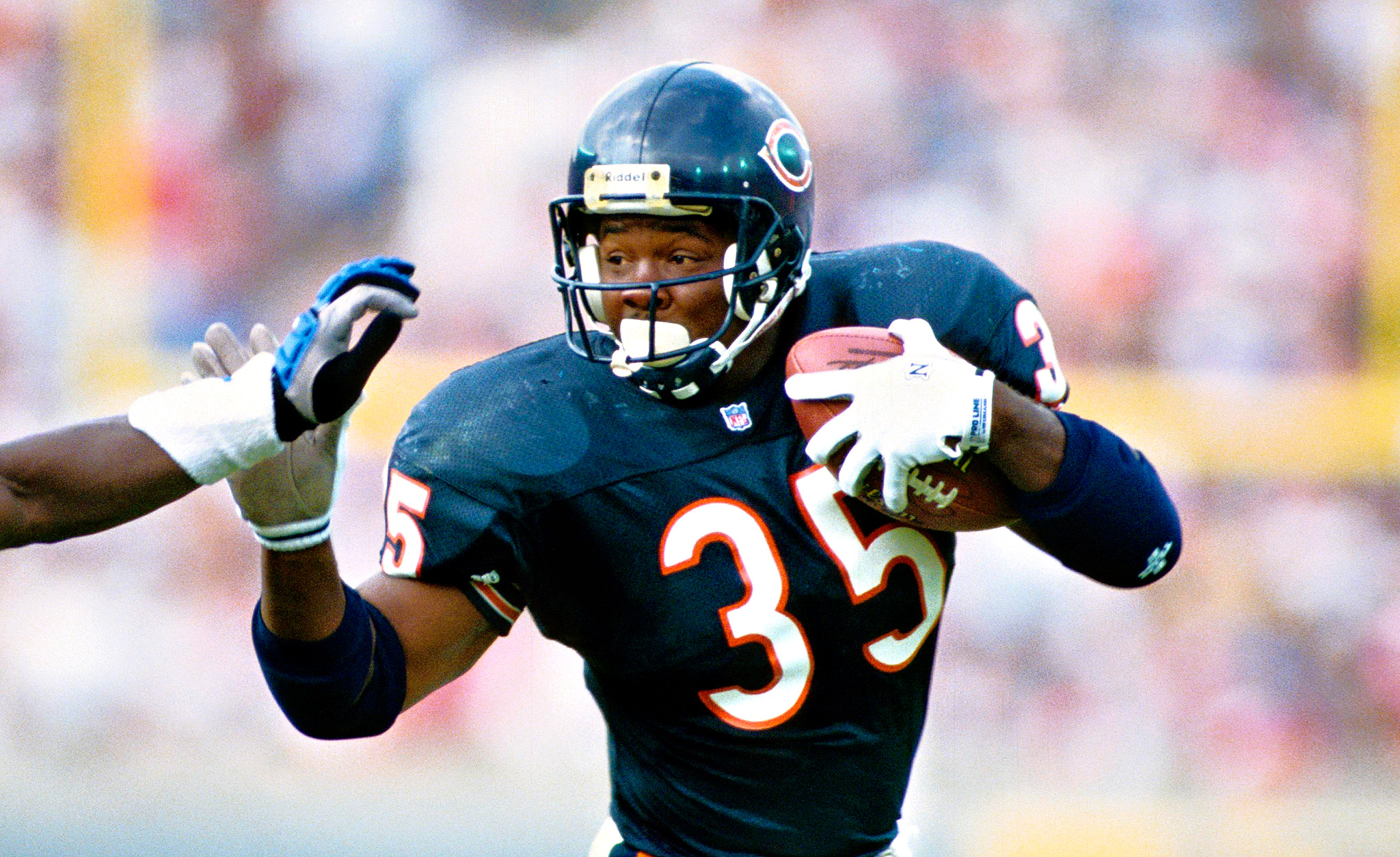 Source: ESPN.com
Doc Pizza: A four-play, 70-yard drive, all rushes, 7 points. Could you ever imagine that happening in the history of Andy Reid? He'd sooner eat an arugula and pear salad with goat cheese and craisins in a subtle balsamic vinaigrette than ever allow something so ridiculous to happen to his team. Chris Polk, I think, could, if he wanted to, run through a 10 ft. thick steel door with Matt Stairs trying to hold it closed on the other side. I'm serious. Grade: A+
Receivers
ZWR: Jeremy Maclin is making so much money for himself. The other wide receivers are a good rookie who isn't ready to lead a unit, a white guy with Creed fan hair, and another rookie who gives the ball to the other team. Thank goodness this plan worked out. "Night Games" James Casey didn't do too much, but it wasn't a night game. Grade: B
Hardingererer: The whole "Jeremy Maclin is a top-10 WR" thing is dope and all but imagine if we didn't cut another top-20 WR in favor of keeping Riley Cooper? Josh Huff is frustrating. Grade: I might never get over Desean (A+ for Maclin)
DG: You know what movie I saw on Saturday? John Wick. Now there's a movie. It's basically Taken, but instead of Liam Neeson running around Europe murdering Russians because his daughter got kidnapped, it's Keanu Reeves running around New York killing different Russians because Theon from Game of Thrones killed his dog. As a reward for his exemplary performance in this week's game, I will purchase Jeremy Maclin two (2) tickets to see John Wick in sparkling IMAX at the theater of his choosing. Grade: A
The Evster: Going into this season, I thought Jeremy Maclin was a half-decent wide receiver who lacked big play ability and was also named Jeffrey. Grade: A+
Doc Pizza: Eagles realllyyyyyy missed Dese*n J*ckson yesterday man ooh man wish they still had him the Eagles don't have a deep threat anymore without DJ*x in the fold hope he's doing OK with Washington. No way Jeremy Maclin can replicate the success he had in the past. No way. Grade: Jeremy Macklyn
ZWR: What the hell are you talking about? You're fired.
Offensive Line
ZWR: I've eaten so much Halloween candy this weekend. Yo no lie they need to do a Thanksgiving jawn with Halloween, and just make it the last Friday in October. It is sooooooo much better on a Friday. Make it happen, Obama. Grade: Freezer Snickers
Hardingererer: The fact that Jason Peters didn't realize Mark Sanchez was in the game until he turned around to congratulate the QB after the Sanchez bomb to Maclin is perhaps the best thing I've ever heard in my life. Grade: A-
DG: I also saw Gone Girl this weekend. That settles it, I am never getting married. Grade: Ben Affleck's penis
The Evster: During an early first quarter drive the Texans offensive line false started while going for it on 4th and 2, prompting Tony Siragusa to add, "That's not what you want from your football team." Thanks, Goose. Grade: A forever
Doc Pizza: Jason Peters is the greatest person who ever lived there isn't really any way we can debate this. Todd Herremans has actually only one functioning body part. Lane Johnson commits false start penalties because he's not getting enough steroids. These are my thoughts on the offensive line. Grade: B+
Defensive Line
ZWR: Dude I don't know. How about an A?
Hardingererer: I had no idea Ryan Fitzpatrick was that elusive. Grade: B-
DG: While I'm yammering about popular culture in what purports to be a recap of a football game … did you ding dongs watch You're the Worst on FX? I wrote something for Uproxx about how much I loved it and why, but I'm too lazy to look for the URL right now. One character tries to do coke off her own boobs. Good show.
ZWR: In! I love boobs.
The Evster: Beau Allen and Brandon Blair combined for a sack in the first quarter despite the fact that neither of them are real people. Grade: A
Doc Pizza: I'm using this as my pop culture category can I say how excited I am to see Interstellar on Saturday my god I wonder what it would be like to go to space it would be cool I bet. I have run out of things to say about the Eagles defensive line and it's like week 9 yeesh. Grade: B+
Linebackers
ZWR: zOMG DeMeco Ryans you poor thing we all love you hurry back (not to football, but to walking and being a functioning human being and to your family we are all in your corner). Grade: Sad
Hardingererer: Casey Matthews will be making the calls on defense now. Grade: Really Sad
DG: BRING BACK TROTTER. Grade: B
ZWR: I was at the game when Jeremiah Trotter returned from retirement. We were all excited and then some guy from the other team got the ball and ran like 55 times faster than Trot and someone else tackled him and Trotter fell on top of the pile and my buddy Frank was like, "DO THE AX MAN!!!" and I was all, "ummm… YEAH DO THE AX MAN". Grade: Frank
Source: Philadelphiaeagles.com
The Evster: I've spent the better part of this fall looking for a new vest. Not like a Corey Pavin sweater vest, or the type of vest that Hardingerer might wear to a Bar Mitzvah, but like a nice, puffy vest
that Jadakiss would wear to rob a bank
. This weekend, I finally bit the bullet and spent $80 on a dope EMS jawn just in time for vest season to officially be over. Grade: F
Hardingererer: The only vest I own is a black Flyers puffy vest from Mitchell and Ness and I only went to 2 Bar Mitzvahs, fyi.
The Evster: Please stop lying to our faithful readers thk u.
Doc Pizza: Seriously are vests in again? I see the ladies wearing them all the time in the city and I'm like wow a vest that's cool if you want to keep your boobies warm I guess but aren't the arms the part of your bod you want to keep warm the most? Idk I'm not going to be buying a vest any time soon unless a good deal comes along, which I will then consider purchasing a vest. Grade: does anyone read this even?
Eric Allen Memorial Bonerjam and Stromboli Party
ZWR: Kind of was hoping Earl Wolff would do make a big play so that I could break out a "Who's Afraid of Earl Wolff" joke but it didn't that is kind of how life works.
Hardingererer: I often wonder what this defense could do with good cornerbacks. Grade: B
DG: We only gave up one 50+ yard touchdown pass this week! A marked improvement! Grade: B-
The Evster: At some point during the third quarter (while I was in the kitchen making a triple decker egg salad sandwich) my wife yelled to me from the other room that "somebody scored!"
"Who?" I asked.
"The other team," she said.
"Okay. Was it a pass? Or a run? Or..."
"It was #80."
"Okay, so it was pa--"
"No wait, #10."
"Okay, so…"
"He looks happy. #10 looks happy."
I might've married Tony Siragusa. Grade: C
ZWR: I enjoyed that story.
Doc Pizza: Honestly if they didn't play with defensive backs would anyone even notice? Would they? Probably but what if. Grade: D
Special Teams
ZWR: Frighteningly excellent. Grade: A
Hardingererer: Even the games like Sunday where they don't do anything notable, they're just quietly really, really good. Crazy Eyes Fipp is a hero. Grade: A
DG: Let's all chip in and get Cody Parkey a fruit basket or a subscription to one of those things where they mail you some steaks every month. Not joking. Grade: A
ZWR: Yeah we can get him Omaha Steaks that's funny because Alex Henery is from Nebraska and Parkey straight ganked his job and is probably boning his girlfried god I hate Alex Henery he is the worst.
The Evster: When the Texans tried to ice Cody Parkey at the end of the first half I let out a HUGE belly laugh and then spit on my television and then got yelled at by my wife for spitting on our television and then tried to clean my television and then got a divorce. Grade: A forever!
Doc Pizza: Cody Parkey regression is gonna come at the worst possible time and we are all gonna cryyyyyyyyuhhhghhhhh. Grade: AAAA
Coaching
ZWR: Mark Sanchez is our replacement quarterback and I'm not even worried because Chip Kelly is the coolest
Hardingererer: In Chip We Trust Grade: A
DG: Chip Kelly is every 14-year-old Madden player in the world and I love him. Grade: A
The Evster: "Go for It" should be everyone's mantra in every aspect of life. I'm joining Tinder. Username: TacoTits Grade: A
ZWR: GO FOR IT!!!
Doc Pizza: Chip is my Mufasa. Grade: A